Same trusted formula, new refreshed design
Available now
SMA® Nutrition are delighted to introduce our new pack designs.
It's simpler, smarter and easier to spot, with a fresh new and improved design. But rest assured, it's still our same trusted formula - with the same ingredients and taste.
Look out for our new bundle, in stores now.
New look, same formula - perfected through over 70 years of breastmilk research

No change to formulation or preparation instructions

QR code to preparation videos on pack

No change to RRP or pack sizes

Preparation instructions and feeding guide together on back of pack, making it easier to follow  
Good to know:
Steel tin cans are 100% recyclable, as a result the lifecycle of a tin can is infinite 

Recyclable plant based plastic lid & scoop*
*At least 66% of plastic in the lid and scoop is now produced from sugar cane a renewable source.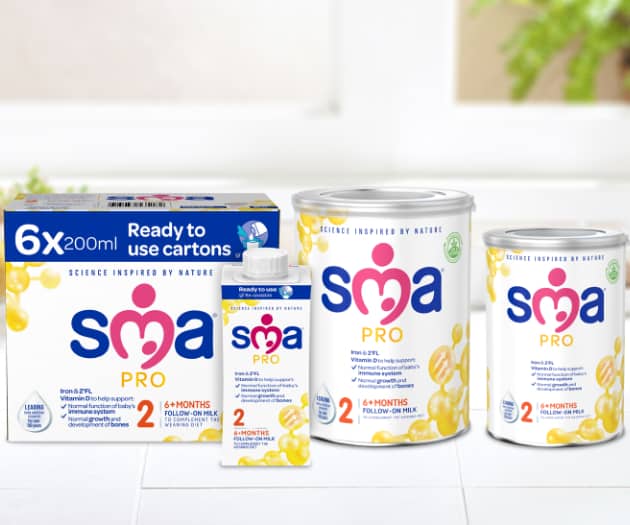 SMA® PRO Follow-on Milk, expertly developed with nature in mind to help support babies' unique nutritional needs.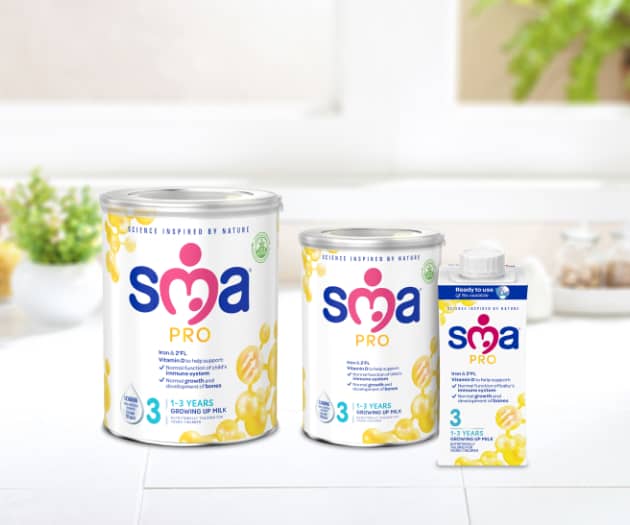 SMA® PRO Growing Up Milk is one way to help support your child's nutritional needs in combination with a healthy balanced diet.
Important notice
The best way to feed a baby is to breastfeed, as breast milk provides the ideal balanced diet and protection against illness for your baby and also many non-nutritional benefits for both baby and mother. We recommend that you speak to your healthcare professional when deciding on your choice of feeding your baby. Professional guidance should also be sought on the preparation for and maintenance of breastfeeding. If you do choose to breastfeed, it's important to eat a healthy, balanced diet. Infant formula is intended to replace breast milk when mothers choose not to breastfeed or if for some reason they are unable to do so. A decision not to breastfeed, or to introduce partial bottle-feeding, will reduce the supply of breast milk. If for any reason you choose not to breastfeed, do remember that such a decision can be difficult to reverse. Using infant formula also has social and financial implications which must be considered. Infant formula should always be prepared, used and stored as instructed on the label, in order to avoid risks to a baby's health. SMA® PRO Follow-on Milk is only suitable for babies over 6 months as part of a mixed diet. It should not be used as a substitute for breast milk during the first 6 months. The decision to start weaning or to use this product before 6 months, should be made only on the advice of a doctor, midwife, health visitor, public health nurse, dietitian or pharmacist, based on baby's individual needs. . SMA® PRO Growing Up Milk is suitable for young children from 1-3 years, as part of a healthy balanced diet and it is not a breast milk substitute.